Welcome to Stormsurf, a website dedicated to delivering the highest quality marine weather data to those who ride waves. We strive to provide the undiluted facts and expert level weather analysis essential to anyone who ventures into our planet's oceans. For stepping in un-informed and unprepared is to court disaster. We value your safety while recognizing the experience the sea provides adds a significant dimension to life, differentiating us from those who remain land-bound. To assist in your safe passage, and inform you while on the journey, we present you Stormsurf.
Stormsurf.com was launched in 1998 to provide detailed surf forecasts and reports to expert level surfers around the globe. Rather than mimicking it's competitors, we initially focused on providing the quality of information required by intermediates to the worlds best extreme ocean athletes. We earned our reputation as a technical powerhouse by working with the local crew at Mavericks to develop surf forecasts specifically for them. Mavericks is the pinnacle of extreme surfing, where cold water, treacherous conditions and waves over 50 feet high are the norm. New ground is broken there annually as tow-in and paddle-in surfing are pushed to the limits, and Stormsurf is a recognized as a significant contributor to that movement.
Photo: © 2002 Doug Acton
Over the years we've expanded our forecast coverage and depth. From our modest original Northern California surf forecast, we now provide detailed meteorological coverage of every significant swell producing event in the North and South Pacific, with detailed site specific surf forecasts for Hawaii, North and South California. And recently we're proud to add the Florida East Coast to our expanding list. As new products are created, we're also adding features that allow for quick digestion of the data, so that even those new to surf meteorology can get what information they need fast and easy, without requiring years of model reading experience. In this way, there should be something here for everyone.
Rather than protecting our forecast techniques and knowledge, Stormsurf started developing a library full of material aimed at setting an educational standard for surfers and ocean goers alike. The library is provided to facilitate discussion, and education while raising the surfing community's technical awareness of the disciplines that constitute surf meteorology, with the hope of instilling a deeper appreciation of the fragile environment we all share. The library contains a vast array of surf meteorology tutorials, maps, links and tools, all in an easy to use format.
Photo: © 2002 Doug Acton
But our most recent and significant accomplishment is the creation of the Stormsurf Buoys and Buoy Forecasts. You now have a clinical view of the surf unlike anything currently available. These pages provide real-time data streamed from every NOAA and CDIP buoy, updated hourly and processed using our proprietary system to decode and identify the primary, secondary and tertiary swell (height and period), and computed surf size at nearby beaches. And with the advent of our Buoy Forecasts, you now have a similar view, but using the models to project what is to come for the next 7 days.
Stormsurf was created by Mark Sponsler, a self-taught surf meteorologist and a big wave surfer. When he was only 7 and in the years immediately following while living in South Florida, he personally experienced the destructive forces of multiple hurricanes, with the eye passing directly overhead in two instances. This direct contact with one of natures most powerful weather systems set the stage for a lifelong quest to gain a greater understanding of the environment and it's impact on people. After moving to Cocoa Beach, Florida, home of some of the world's best surfers, he became deeply involved in surfing and surf forecasting, fueled by the high energy surf culture there. By 1985 he began creating rudimentary surf forecasts for a small group of avid local surfers. The quest to ride larger waves drove trips to Hawaii, and by 1995, he moved to the San Francisco Bay Area, ultimately to ride Mavericks. With him he brought his forecasting knowledge, and the demand for that information resulted in the creation of Stormsurf.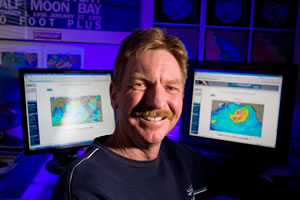 Photo: ISIphotos
It was here that he started developing the highly evolved state-of-the-art surf forecasts he is known for. Predictions included the comparatively mundane aspects of forecasting wave size accurate to the foot, swell size to within 6 inches and period to within one second. But it is the extraordinary achievement of projecting when the swell would arrive to within one hour is what he is best known for. Using this data, it was now possible to literally paddle out into a nearly flat ocean armed with the knowledge that within minutes, the first waves of an approaching 20 ft or greater swell would start breaking. This capability enables surfers, photographers and water safety personnel alike to be in place and ready to experience the best moments a swell has to offer.
And for the last 10 years Stormsurf has provided weekly video surf forecasts on YouTube discussing recent and upcoming swell events in the Pacific and monitoring the development of El Nino and La Nina, analyzing the way they impact the potential for surf and snow (see Stormsurf 001).
Photo: Curt Myers/
Powerlines Productions
Stormsurf.com has been the one and only surf forecast source for all variations of the Mavericks Surf contest including the Quiksilver "Men Who Ride Mountains" contests, the Mavericks Surf Contest and the Mavericks Invitational. It has also provided forecast consultation for the MacGillivray-Freeman IMAX film "Wild California", Dan Rather's "48 Hours", Ted Koppel's "Nightline", programming from FOX and numerous other TV productions that focus on big wave surfing and forecasting. Stormsurf/Mark was the surf forecaster for the Hollywood movies "Chasing Mavericks" (2012 IMDb) directed by Michael Apted and Curtis Hanson starring Gerrard Butler and "Point Break" directed by Ericson Core (2015 IMDb). Mark and Stormsurf were featured in 2014 in news spots on the CBS Evening News and Bloomberg TV discussing surf forecasting technology in support of the Mavericks Invitational. Mark was also on HBO's Bryant Gumbel "Real Sports" supporting the Titans of Mavericks surf contest. Mark was appears in Paul Taublids "Groundswell - The Other Side of Fear" and "Big Wave Hellmen" on ABC. Mark also appeared on ABC10 Sacramento with Brenden Mincheff dissecting the development of El Nino. Stormsurf contributed to a formal research paper published in the renown scientific periodical 'Geophysical Research Journal' concerning the effects of large North Pacific swells and their contribution to iceberg breakup off the Ross Ice Shelf (Antarctica). Stormsurf also contributed to 'Inside Mavericks' a book published by Chronicle Books and has contributed to articles published in Readers Digest, the San Francisco Chronicle and Surf News. Either Mark or Stormsurf have appeared in both Surfer and Surfing magazines and Towsurfer online magazine. Stormsurf provides ongoing forecasts for the Northern California surf film, video and photography industry and is credited on numerous productions including the Curt Myers/Eric Nelson big wave epics "Whipped" and "100 ft Wednesday". Stormsurf has supplied surf forecasts for the Hawaiian Triplee Crown of Surfing website (2001) and all recent Sebastian Inlet "King of the Peak" contests. It provides surf forecasts via it's public website and syndicates content on the websites of Killer Dana, Surfpulse, and Surflink as well as providing forecast for Wavewatch.com.
Links:
Mavericks - Bryant Gumbel Real Sports
Forecasting the Perfect Swell - RedBull
The Call - 2014 Mavericks Invitational Presented by GoPro
How to Predict The Best Waves - Bloomberg TV
CBS News - Surfs Up for Mavericks
Mark Sponsler graduated from Rollins College in 1980 with a degree in Business Administration. He's managed software projects for Rockwell International, Lockheed-Martin, Kaiser Permantente and consulted for Spherion and Swell.com.
Stormsurf is also is fortunate to have the programming talents of Philip Rollet, Val Shiro, and Pablo Romero. With backgrounds in UNIX, Perl, CGI, GD, MySQL, Java and a host of other languages and tools, the new functionality of Stormsurf would not have been possible. Phil did all the work on the Buoy Forecasts, the Google Gadget, and the mobile/cell phone rendition of our buoy data and of course our new store. Check out Phil's website at: http://stephilix.blogspot.com/
We are proud to present this website, and welcome any comments or suggestions you may have. Thanks for joining us and we look forward to serving your needs in the years to come.